Welcome to Kayaks Australia
Kayaks Australia is a retail paddling business, owned and operated by Denise Williams, who is a University Qualified Exercise and Rehabilitation Consultant with over 30 years of on-the-water paddling experience.
Formerly situated at Taren Point, in the Sutherland Shire (southern suburbs of Sydney), Kayaks Australia sell a wide range of canoes, kayaks, sea kayaks and sit-on kayaks from the leading designers and manufacturers in Australia and New Zealand.
We proudly support companies that are still making products in Australia and New Zealand (keeping jobs and money here), as we have found that these products are equal to (and in most cases better than) a lot of the imported brands with regard to quality and performance on the water.
The locally made brands that we stock include Australis, Finn and Q-Kayaks.
We are also agents for BIC, Necky, Ocean Kayak and Old Town.
We began serving the people of the Shire and surrounds in 2002 until we closed our showroom in December 2010. We have built a reputation for selling only the highest quality products and providing exceptional service and information.
If there is any information that you require and are not able to find it here just yet, send us an email or give us a call on 02 9531 7800.
Deliving Canoes and Kayaks direct into Sydney
With our Taren Point showroom now closed, Kayaks Australia is delivering our watercraft direct to our customers in Sydney.
Depending on your locations, this may be by courier, or via the Kayaks Australia utes direct.
If you live in another part of Australia, we may also be able to arrange delivery to you as well.
To find out if we can deliver to you, or to place an order for your canoe, kayak, sea kayak or sit-on-top from Kayaks Australia, simply send us an email at mail@kayaksoz.com.au and we will get it all organised for you.
If you would like more information about any of our products, please call us on (02) 9531 7800 or 0409 490 008. We may not be able to get to your call straight away, but if you leave a message, we will get back to you as soon as we can.
Kayaks Australia - About Us
In December 2010, after 8 years, we closed our huge kayak showroom in Taren Point for a tree change. Denise and Troy are moving to country NSW to escape the rat-race of city life and so Troy can return to his farming roots.
Kayaks Australia have not been "bought out" or "taken over". We have simply closed our showroom at Taren Point, and are now selling exclusively over the internet.
Going forward, Kayaks Australia will continue to operate, as we will be maintaining relationships with all our current suppliers, meaning you are still able to purchase top quality kayaking accessories and craft through our website.
Ordering is as simple as sending an email, and we have a number of payment options available.
Our phone number remains as (02) 9531 7800 and this now diverts to a mobile phone. If we are not able to answer your call immediately, please leave a message and we will get back to you as soon as we can.
We would like to thank all the people (customers and suppliers) who have helped us build Kayaks Australia into the successful business that it is today, and look forward to continuing to supply the top quality advice, products and service that Kayaks Australia is renowned for.
Transport and Storage Solutions
Stackable sit-on-top kayaks
Australis make a range of sit-on-top kayaks that include a number with profiled decks that allow them to stack with each other to make transporting on roof racks or a trolley easy.
The stacking design feature of these sit-on-tops, allows multiple kayaks to be put on top of even the smallest of cars, without the need for a costly kayak carriers.
You can find out more about these handy kayaks at Stackable sit-on-top kayaks by Australis .
You can find out more about these handy kayaks at stackable sit-on-top kayaks by Australis.
Swanndri - Available at Kayaks Australia
Kayaks Australia is a stockist of the iconic New Zealand brand, Swanndri.
We have various items in-store in a varying sizes and colours.
If we don't have what you need, we can order it in for you.
Continue to find out more about Swanndri Clothing.
Mallacoota... A great place to go paddling!
We spent the Easter break in Mallacoota VIC, about an hour past Eden, just over the NSW/VIC border... What a great place for kayaking!.
There is an extensive lake system that you can explore, or if you prefer something with a bit more adventure, head out for an open water paddle or a bash in the surf.

In Mallacoota, we choose to stay at the Mallacoota Hotel Motel, as it is a one-stop-shop for accommodation, meals and drinks.
Kayaking Clubs - Are you looking for people to go paddling with?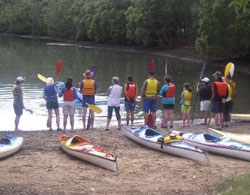 Canoe and kayak clubs are a great place to start when looking for people to go paddling with.
The benefits that you receive as a member of a club (insurance coverage, advice and guidance from paddlers with more experience than you, as well as skill development days), far outweigh the costs of joining these clubs.
There are clubs all over Australia, and in the southern Sydney area, we are particularly lucky to have some specialist clubs (racing, white water, sea kayaking), as well as groups that are just interested in recreational paddling.
Find out more about our local Paddling Groups and Clubs.